Forget likes and shares. You can now transfer money internationally through Facebook.
Money transfer startup TransferWise has launched a new chatbot that allows Facebook (Facebook) users to transfer funds overseas using the social platform's Messenger service.
The bot can be used to transfer money between the United States, Canada, Australia, and the European Union. It will also notify users via an alert when their regularly used currencies reach favorable rates.
Facebook users could previously transfer money within the United States, but not between accounts in foreign countries.
Over a million customers transfer nearly $1 billion every month with London-based TransferWise. The startup, which counts venture capital firm Andreessen Horowitz and Virgin founder Richard Branson among its investors, is valued at around $1.1 billion.
TransferWise helps users avoid costly fees incurred when transferring funds across borders.
It does this by allowing customers to transfer money to a local TransferWise bank account in their home country. The startup will then pay the same amount from its local account in a second country of the user's choice.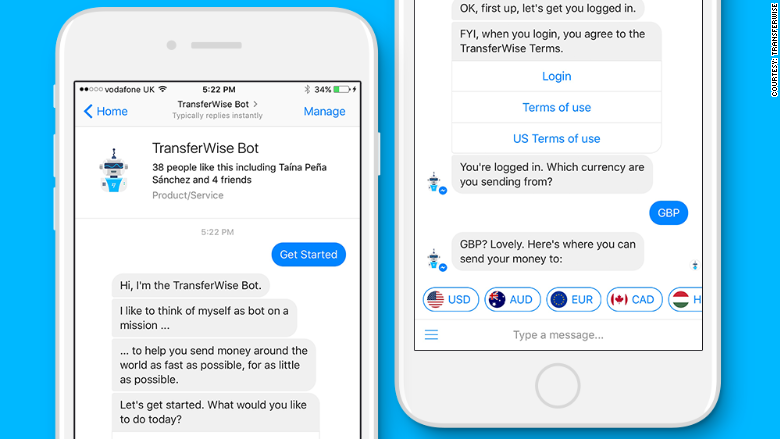 TransferWise is regulated by the UK's Financial Conduct Authority, and the company said its Facebook bot complies with all relevant consumer protection laws.
Related: Bots are a little dumber than we hoped – for now
Facebook first launched chatbots for its Messenger app last April.
Bots allow users to communicate with businesses the same way they talk to their friends. They can provide everything from weather updates to personalized updates and other services.
Bots respond conversationally, and brands are increasingly using them to replace customer service agents.
CNNMoney (London) First published February 21, 2017: 7:01 a.m. ET